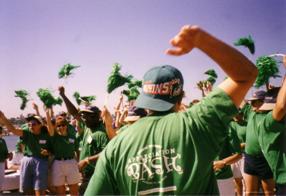 From large events, to small intimate gatherings, we work hard to create Interactive Entertainment that will satisfy the most discerning of tastes. Whether you want a Murder Mystery, a Hollywood Screen Test, a Comedy, Song and Dance Extravaganza, or a day of Team Building Games, everything we offer can be completely personalized for and about your company or group. All of our entertainment selections include fun audience participation to the extent of each guest's personal comfort level. From the extraordinary to the exotic and everything in between, the environment we create is always compelling and fun!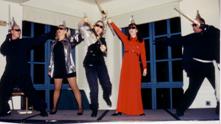 By intermingling comedy, theatrics and even a few Improvisational activities, our Team Building Events are filled with energy and vibrancy, fun and excitement, high participation and success filled interaction. Our certified Theatrical Game Masters, who are professional actors, that specialize in interactive audience play and motivational events, will inspire as they entertain and guide each participant through their tasks. Be it creative problem solving or simply task of sweeping an object from one side of the room to the other while blindfolded, we evoke confidence and camaraderie and will soon have everyone going beyond their limits and participating full out in the events before them. It is our objective to focus on motivating, trust building and the creation of positive synergy between participants – and of course, making sure everyone has a whole lot of fun!
Team Building Games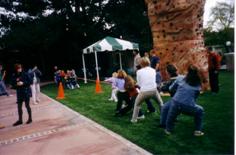 We will provide you with an exciting afternoon of Interactive Games and Activities The games will be competitive, fun, friendly and appropriate for all ages and abilities of attendees, as well as for the selected location. Not only are our interactive games fun to participate in, they are also just as much fun to watch, so all will feel a part of the fun, comfortable and included, whatever their level of participation.
Our certified professional Game Masters will keep the crowd focused, energized and having fun. They are all professional entertainers who specialize in the Interactive games and entertainment.
Here is a sample of some of our most popular "Outdoor" Themed Team Building games:
Spinner Cones Relay Race
Limbo Contest
Three legged Race
Water Balloon Toss
Conch Shell Blowing Contest
The Water Bucket Brigade
Volleyball (We supply mini net set up & ball)
Tug-O-War
We can design the event to be "competitive" with a "Winning Team" at the end, or the entire event can be designed where everybody is a "winner" just by participating. Both methods work great and have the same fun-for-all effects.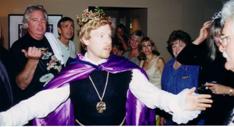 We will custom design an afternoon of games and activities to fit your specific group, goals, timing and location requirements. Our games are suitable for just about any location and are always designed to be safe and fun for all ages and abilities. You give us the particulars; your desired outcome and we'll do the rest. We pride ourselves in meeting and exceeding all expectations.
For something REALLY DIFFERENT… how about our very popular murder mystery games…
The following are our very popular interactive Mystery GAMES that YOU play (guided by professional actors) It is much different than our larger staged Shows. It was created specifically for small, intimate groups like yours.